Facts:
Business is driven by reliance on innovation and advancing technology.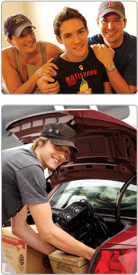 Why Should Your Technology Student Go Away to College?
Understandably, every parent has mixed emotions about their child going away to college. The college experience marks the beginning of a child's real independence and that sometimes takes a while to get used to. Helping your child ensure they are a great fit is one of the biggest roles a parent plays in the college selection process.
Obviously, there are colleges close to home, so why should your child choose a school farther away? In the case of UAT, it makes all the difference in the world. If your child has an undeniable passion for technology, this is the place for them. Our entire culture focuses on the value of learning and the adventure of innovating with technology. The technology programs at your local colleges don't offer the deep technology collaboration and innovative culture uniquely found only at UAT. Your child might learn what the technology future will look like at a local college, but at UAT they can learn to create the future with an outstanding student-to-teacher ratio.
A tech school isn't the answer either. Our experience is that it is a never-ending uphill battle for vocational or technical school students to achieve the level of success UAT graduates typically enjoy immediately. Because they have an insight into the real world of advancing technology when they graduate, UAT graduates typically are the leaders and innovators, often directing the work of technicians who have only a training school background.
THE RIGHT TECHNOLOGY EDUCATION EXPANDS EMPLOYMENT OPPORTUNITIES
As the first computer technology University in the country, UAT has earned a reputation for excellence in advancing technology education that maximizes employment opportunities for graduates in the rapidly expanding technology field. UAT's credentials and partnerships establish it as a renowned thought leader and connect UAT to the pulse of the technology industry. Not just any technology University leverages the forces of its network to provide opportunities to connect students to the real world—before and after graduation.
Technology Continues To Score High As A Career Choice
At UAT, our focus is on outcomes. We can measure successful outcomes by the number of technology degree graduates we have sent out to become deep thinking leaders at important companies in the industries we serve. Advancing technology graduates have an understanding of the world, due in part, to the advantages offered by a time-honored, well-rounded education. Our esteemed technology College alumni work for leading technology companies and organizations, such as Microsoft, the National Security Agency, NASDAQ, Department of Defense, LexisNexis, Electronic Arts, Intel, Motorola, Neversoft, Dell, Charles Schwab, THQ and Playdom.
UAT graduates are known as forward thinking innovators and capable problem solvers ready to enter the job market, prepared to contribute to society and industry in significant ways that often result in groundbreaking new developments.
"Americans are as likely to say the percentage of graduates who are able to get a good job is the most important factor in choosing which college or university to attend as they are to say the price," according to a 2013 Gallup Survey.
—conducted on behalf of Lumina Foundation, with a random sample of 1,012 adults, aged 18 and older, living in all 50 U.S. states and the District of Columbia.

Student Innovation Projects
A key part of an education at UAT is the graduation requirement to complete a formal, sophisticated portfolio of work. This portfolio demonstrates the student's mastery of the knowledge and skills in their chosen field.
Some of the SIPs that have emerged from UAT students include:
Hello Color: Inter-dimensional Space Checkers (mobile game)
Visual Network Analyzer (threat analysis for computer networks)
Dynamic Portfolio (immersive way to showcase 2D art)
Denarius (tabletop RPG)
Dog Park Riot (creation of a dynamic website)
Alliances and Partnerships
UAT alliances and partnerships with employers and organizations within a variety of technology degree fields serve to strengthen what is already an excellent record of student employment upon graduation. Many technology university graduates have achieved successful careers with local and national companies, while others pioneer in fields that didn't exist when they started their college careers. Our Career Services department works to arrange appropriate internships in industry for the majority of our technology degree students.
Current UAT Partnerships include:
City of Surprise AZ TechCelerator
Kinetic Muscles Incorporated (KMI)
MicroChip
Stach and Liu
Cummings Engineering
Blizzard
"I HAD TWO JOB OFFERS WITHIN THREE MONTHS OF GRADUATING, INCLUDING BLIZZARD (WORLD OF WARCRAFT) AND RED STORM ENTERTAINMENT, WHERE I'M WORKING NOW."
—CHRIS POPE, UAT GRADUATE

The Field of Advancing Technology
Technological advancements will boost the employment of computer-related workers; as a result, the demand for managers to direct these workers also will increase. With the explosive growth of electronic commerce and the capacity of the Internet to create new relationships with customers, the role of computer and information systems managers will continue to evolve. Persons in these jobs will become increasingly vital to their companies. The expansion of the wireless Internet will spur the need for computer and information systems managers with both business savvy and technical proficiency.
– U.S. Department of Labor
Employment in the computer systems design and related services industry is projected to add 671,300 jobs, to reach an employment level of 2.1 million by 2020, making this industry one of the largest growing ones. The computer systems design and related services industry also is expected to be among those with the largest and fastest increases in real output, which is projected to increase by $208.0 billion, to reach $466.5 billion in 2020, an annual growth rate of 6.1 percent.

– U.S. Bureau of Labor Statistics
The computer systems design and related services industry is among the economy's largest and fastest sources of employment growth. The projected 2004-14 employment increase of 453,000 translates into 1.6 million jobs. Employment of computer and information systems managers is expected to grow between 18 to 26 percent for all occupations through the year 2014.

–United States Department of Labor
Despite the downturn in the technology sector in the early part of this decade, the outlook for computer and information systems professionals remains strong. Eight out of the 10 highest growth employment fields are currently within the programming, computer and technology fields.

– U.S. Bureau of Labor Statistics
U.S. information and communications technology spending will grow 6.6% this year and global IT spending will be up 7.1% to $1.7 Trillion. To win in global innovation ecosystems, U.S. firms need a new breed of multi-disciplinary technologists who can generate, transform, broker and finance the best ideas anywhere in the world.
The North American and European video game market is a huge industry—dominated by global players such as Nintendo, Sony and Microsoft—that draws in consumers from all walks of life. The next few years will see an evolutionary, rather than revolutionary, growth. The U.S. is the largest market for video games, now larger than the market for music and movies combined, at more than $21 Billion.
Business process management suites' (BPMS) license, services and maintenance revenue from software vendors grew 15% from 2008 to 2009 and now stands at over $2 Billion in revenue, as enterprises seek to improve the efficiency, effectiveness and strategic value of key business processes.
– Forrester Research Inc.
The beginning salary for many of the jobs in the technology categories ranges to more than $50,000 per year, with employees holding a college degree and having some experience receiving compensation at the higher end of the range. In addition, computer and information systems managers, especially those at higher levels, often receive more employment-related benefits—such as expense accounts, stock option plans, and bonuses—than do non-managerial workers in their organizations.
– U.S. Bureau of Labor Statistics
By 2020, employment in all computer occupations is expected to increase by 22%. Demand for software developers will be the strongest in this period, with increases ranging from 28% to 32%, depending on the type of software development.
– U.S. Bureau of Labor Statistics