Technology Degree Graduate

Parent testimonial
A LETTER FROM THE MOTHER OF A UAT NETWORK SECURITY DEGREE GRADUATE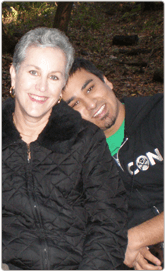 To the Staff, Faculty and Administration at UAT:
I want to extend my heartfelt appreciation to all of you at the University of Advancing Technology for your dedication to my son's technology college education that has resulted in his launch of a successful career in Network Security and Forensic Technology with a government agency.
I particularly appreciate UAT's personal, hands-on approach and structure. Your University is small enough to be personal and no one gets lost in a huge crowd. Professors and staff are always available for any problems. This increased my comfort level from the beginning.
You extended a warm welcome and were committed to helping him achieve his goals. You seemed to have a personal interest in making sure he made it through the program. I liked the unusual art work in the informational materials your University sent; it seemed less like a stuffy institution and more like a vibrant, changing, and up-to-date approach to teaching designed for the current mindset of teens. This was important, again, because we knew he was better suited for a non-traditional technology college setting.
I feel Kevin's overall experience at UAT was hugely successful, especially since he earned two degrees in less than four years. Some classes used a group approach to work through projects, which helped his grades. He was able to do some extra credit projects that also helped. Since there were no real "summer vacations," he could get though the Network Security and Computer Forensics Degree programs quicker.
I strongly believe he could not have secured his current position without his education at UAT, their support helped him succeed in his technology degree programs. We are also grateful for the internship he had, thanks to UAT's community connections that led to him being hired right out of college so he could use the knowledge he acquired and build on what he knew.
Our family is extremely proud of him. It was actually his own journey; he knew if he did not tow the mark that college funding would end. He made the decision to succeed and was helped along the way by many. He enjoyed the classes, and as time went by he became more focused on the end goal. Growth was not only academic, but also personal. He became more confident as he connected to professional people in the industry through UAT sponsored events. He also had opportunities to compete in scholastic competitions with other schools, which he very much enjoyed. I think this also helped him rise to the challenge of completing both technology degree programs.
UAT provided the opportunity for academic and personal growth, but also helped him network with those who could help him after graduation. Your technology university nurtured an initial core of friendships that have helped him in his career path. I highly recommend the University for anyone interested in computer science as a career!
Thank you again,
Tara Kadium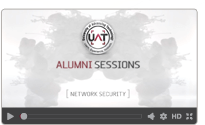 WANT TO SEE ANOTHER?
Watch this short video of a UAT Alumni Hero sharing his experience as a Cyber Security student and his success after graduation.
Technology Degree Graduate Student testimonial
A letter From a uat information assurance degree graduate
Jason and Dave,
I know you are both busy but I wanted to share...
UAT is an amazing college; like the about page says it lives up to being a technophiles college experience.  
First off your advertising is top notch - a short description of how I found UAT.  I made getting a Master's degree a long term goal of mine at a young age (looking back on that decision I think it was bold given I couldn't possibly have known what I was committing to doing).  I had just moved into my first house and needed to get a very essential piece of furniture that any self respecting bachelor (technophile or otherwise) should have in his house - a very large high definition television.  This led to buying a Playstation which dubs as a blu-ray player since my non-hidef DVD player wasn't cutting it on the new TV (bare with me… my description isn't as short as I thought).  As I was purchasing my playstation from GameStop I also got a free subscription of Game Informer for a year.  Fast forward to the next year as that subscription was about to end, I found myself with some extra time to do more than flip through the pages.  I looked at the lower right corner and saw a picture of an infants backside with UAT's logo tattooed on its back.  WTH?!  I looked closer and noted the .edu domain.  As it happens I had been shopping around for a Master's program that interested me.  I got on the UAT website and found a Master's program that I had only seen one other place offered as a PhD (Capella University).  The program was Information Assurance.   The rest was history.  I put myself on the fast track to attaining a long term goal starting in Fall 2011.--- All because I saw the backside of a baby with the school logo tattooed on its back.  Nice advertising!
From the time I discovered UAT and the time I started my first semester there was a reconnaissance phase I went through.  Is the school accredited?  How long has the school existed?  Can I do my Masters program online?  Can I visit the campus?  OMG!  I walked into UAT for the first time on March 25, 2011 and was immediately blown away by what I was shown.  I left not only sure that I picked the right college but feeling envious of the students attending on ground.  UAT is a technophiles paradise!  It even crossed my mind that had I had the chance to do it over again I would have likely moved to Arizona from Sacramento, Ca to get my bachelors.  Still I knew I was in the right place.  During my four (rigorous, fun, exciting, memorable) semesters at the college I was even fortunate to be able to attend my thesis classes on ground at least once each semester; this included my research methods course.  From a progress standpoint I got to work one on one in person with my thesis instructor.  On a personal note I love the campus and availed myself of any opportunity to visit.  The online and on ground experiences were amazing!
I want to acknowledge a few of my professors:
Robert Morse - instrumental in guiding me through my first formal research project as prescribed by APA.  I would give the unabridged version of this statement but I realize you both are busy.  Suffice it to say I appreciate his willingness to help me succeed.  
Sandra Kirkland - I had the pleasure of working with Professor Kirkland all four semesters in at least one class.  Given I was taking the maximum number of units each semester it was refreshing not to have to learn numerous teaching styles from different instructors.  Moreover, Professor Kirkland is always there to help students succeed.  She asked challenging questions that forced myself as well as my classmates to keep going a little further with regard to understanding the learning objectives for the week.  
Greg Miles - If I am honest my true right of passage was my thesis however if I had to choose a course that was my right of passage course, it would be my Digital Forensics and Investigation class.  The reason was Dr. Miles.  It has been my observation that part time faculty that work in the field that they teach provide and education that can't be replicated out of a text book.  Dr. Miles is no different.  Working in information assurance he brought real world scenarios to the class that provided challenges which enhanced the learning found in the text and in the course shell.  The knowledge he shared and challenging assignments he assigned forced me to think about information security in ways I had never previously thought.  I had him again during my final semester at UAT and had a similar experience but I have to say that first class was the most challenging and rewarding of all -- hence right of passage.
I concluded my experience as a student of UAT at commencement almost two weeks ago.  I was fortunate to have a small army of support including family and friends.  Though many of them are not geeks and therefore couldn't understand much of what was said, it was unanimous that UAT puts on the best graduation ceremony they have ever observed.  I agree; the technology moment was especially awesome.  I am glad it was filmed because I will definitely watch it again.
I will conclude my thoughts by sharing something I said to Dr. Robert Morse in a recent email.  "It is amazing that even in online learning, there is a sense of community and support that likely contributed to our success as graduate students and finally seeing those very people had a sense of feeling as though I have known them for a long time even though we had never met in person before."  I had this observation while we were waiting for commencement to start.  The classmates I was referring to were from my thesis classes.  We were all in the same boat and supported each other accordingly.  It was truly a pleasure to finally meet them in person.
I gratefully extend my thanks to the UAT community for providing such an awesome experience!
Joshua Hall M.S.
UAT Alumnus