UAT MISSION STATEMENT
:
TO EDUCATE STUDENTS IN ADVANCING TECHNOLOGY WHO INNOVATE FOR OUR FUTURE.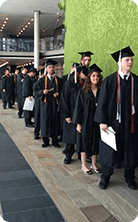 UAT is a private university that fosters the development of passionate technophiles who ethically advance society through the creation and application of next-generation technology. The University's best-in-class technology degree programs are industry relevant and industry driven. UAT's prestigious student body numbers over 800, with nearly 90% of them coming from all 50 states and four continents.
UAT students come from a wide variety of locations and backgrounds, but they all share one thing in common—a passion for technology and innovation. Take a walk around campus and you will see groups of students working together on various technological innovations, looking to create the next big thing. These interactions will not only challenge students to learn from each other, but also help build friendships to last a lifetime.
To further interaction and ensure all students achieve their greatest academic success, UAT has developed a system known as Synchronic Learning. Life outside college does not work in semesters with summers off. Synchronic Learning reflects the working world schedule to enable collaborative team projects lasting more than a semester and encouraging lifelong learning habits needed after graduation.
UAT understands all individuals learn and retain information in different ways.
With Synchronic Learning:
UAT students experience a variety of teaching methodologies
Methodologies and tools engage tech-savvy students and foster each student's highest learning potential
Students learn through lecture, tutorials, group interaction, discovery and student teach back
Learning and retention are maximized to build a foundation that helps UAT students become life-long learners
Students gain valuable skills for adapting to different environments, master effective communication skills and working efficiently in cooperation with colleagues
Did You Know?
UAT graduates are encouraged to remain current with changes in their industry and are invited back to the university to audit their courses, at no cost, for the remainder of their career.